Puppets
A puppet can resemble a human, animal, mythical figure or character. Puppetry is a popular form of story telling and harks back to ancient forms of theatre. Indonesia has a vast and rich history of puppetry with many different styles. Here is a selection from the collection of the two most popular styles, Wayang Kulit (shadow puppets) and Wayang Golek (rod puppets).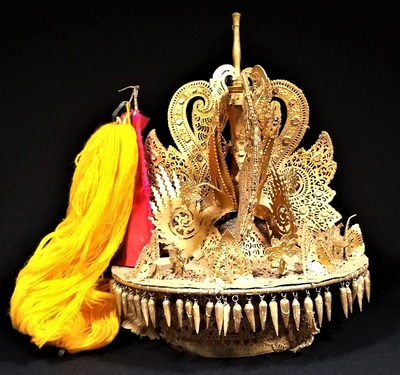 Gorgeous thing - Headdress
These highlights from the collection are a range of headdress or headgear selected for their unique design and beauty. Headgear may be worn for many purposes, including protection against the elements, social convention, decoration, religious or cultural reasons.
Mask
Masks have been used in many civilisations since antiquity. A mask is worn on the face for performance entertainment, theatre, ceremonial purposes or for protection purposes. This small selection shows examples from countries within the continent of Africa and from islands throughout Asia Pacific.